Facebook Fanpage administrators are always looking for more efficient ways to post the best posts. They would like to update Facebook Fanpage by post PDF files. That's what you think, right? Well, How to post a PDF on Facebook?
We all know that only a link, text, photo and video can be uploaded on Facebook. So we can post a PDF on Facebook by following ways:
Convert PDF to Text. You can copy & paste the text into a Facebook note. But you may need to click 'More' to view Notes. (Works for text-based PDF files)
Export PDF with Adobe Acrobat. If you have Adobe Acrobat on desktop, you're in luck. Acrobat can help you out. Use the software to export or convert PDFs to different file formats. (Only works for people who have Adobe Acrobat installed)
Convert PDF with Microsoft Word .(Convoluted method)
Link PDF files to Facebook. The actual file can reside anywhere, including a website or a document repository such as Google docs or Dropbox. (Easiest way)
Convert PDF to Image. Use a third party tool to do it. (Recommended & Works for everyone)
By converting PDF to Image format, you can post your PDF files on Facebook to increase the exposure rate of your enterprise. what's more, you can enhance the accessibility of your organizations. Make it visible through browser on any portable device.
It may sound like an easy task to accomplish. But many people don't know how to choose a suitable PDF to Image tool, specially for Mac users. Fortunately, to help users choose a best PDF to Image converter, we would introduce several PDF to Image converters and compare their pros and cons. Read on.
Convert PDF to Image Online (Windows & MacOS)
Tool 1. ZAMZAR
Zamzar is an online multipurpose converter that allow you convert PDF to multiple formats, including Image, Word, Excel, and PowerPoint. It also supports over 1200 different conversions - eBook Converter, Image Converter, CAD Converter.
It is free and easy to use. But It's not very professional. And after converted, you need to provide your email address to received converted files, your PDF file and privacy information may be given away.
Tool 2. Convertio.co
Convertio is a simple PDF online tool for users to convert PDF to other format document, of course, including Image. You just need to upload your PDF file to it, you will get a converted Image format file form it. It is very simple and convenient. You can download converted file directly. However, the effect of conversion is disappointing, the converted file lost lots of contents. And the file pages limited, If you need to recognize more than 10 pages, you need to sign up.

Tool 3. Freepdfconvert
Freepdfconvert is a free website that combines many functions in one, it allows users to convert PDF files to Image quickly and efficiently, the conversion starts as soon as you upload a file. But It runs very very slow, you must spend time on uploading PDF files. The scanned and encrypted PDF are also included. Freepdfconvert takes files security very seriously. You don't need to leave your email address and your files can be downloaded directly. But if you want to convert more file, you may need sign up and be their membership.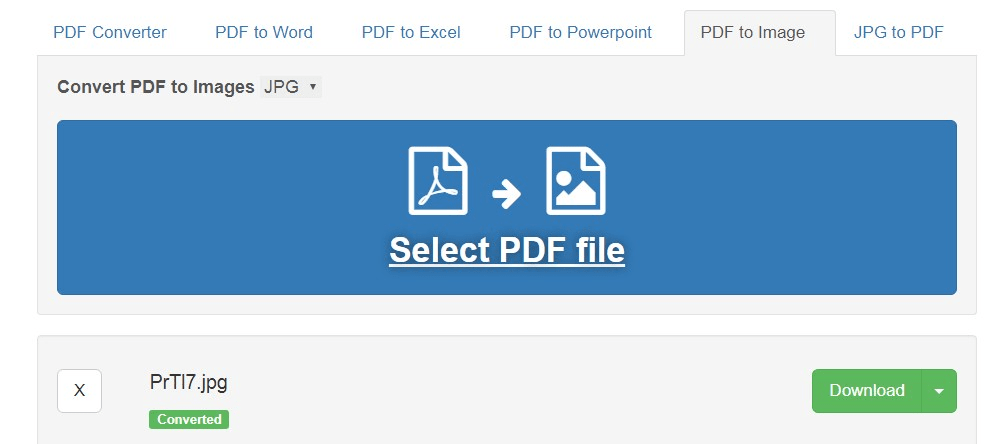 Pros and Cons of Covert PDF with Online Tool
PROS
Free
Initiative interface & simple workflow, easy to use
CONS
Allow batch conversion
Privacy information may be given away
The effect of conversion is disappointing
Converted files only be stored few hours
If you need to convert PDF to Image format on Mac very often and maybe your PDF files are confidential ones, you'd better turn to a professional PDF converter. Here we will show how to perform the conversion with the best and safest PDF to Image converter.
Convert PDF to Image with An Expert
With the increasing demand of users on conversion quality and performance, many company have begun to develop a large number of professional programs to convert PDF into various editable file format tools, such as PDF, Keynote, PDF to Word, Epub, Text and many more.
In this part, we will introduce the best-feedback software - Enolsoft PDF Converter with OCR, to convert PDF to Image files on Mac.
The Main Features of Enolsoft PDF Converter OCR for Mac:
It can help convert PDF to any formats like Word, Epub, Text, Image, Html and etc.
Effortless conversion with high accuracy
PDF converter for Mac with high compatibility
It allow you edit pages with OCR applied
Step 1. Download & Install Enolsoft PDF Converter OCR for Mac.
Click the download button to download Enolsoft PDF Converter OCR for Mac and install it on your Mac.
Step 2. Add PDF Files
Drag & drop PDF into the program. Please select specific pages to be converted. Or you can choose convert the entire file. Also you can select the language from the drop-down. It allows you preview file before convert.
Step 3. Output Setting & Start Conversion
When finish loading and editing your PDF file, choose the output save as Image (.jpg). Of course, you can convert the PDF to other formats if it is necessary. Then click 'convert' button to convert PDF to Image for a while.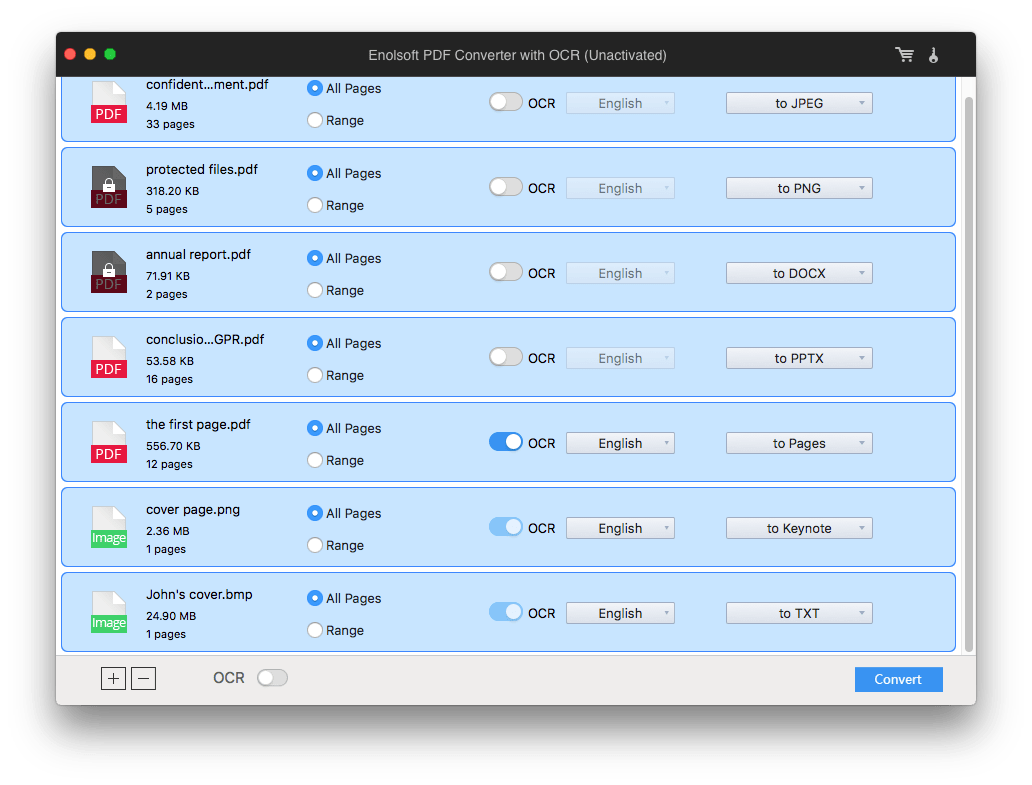 You will get the Image file soon. Then you can upload an image to Facebook to share with your friends with no trouble more. Using a Image to post a PDF to Group, Fanpage, and Personal Walls just like you share any photo on your Facebook Wall.
Pros and Cons of Covert PDF with Professional Software
PROS
Fully functional, you don't need to install any other PDF converter
Supports to preview PDF files before converting
Supports up to 200 languages
CONS
Windows version is not available now
Conclusion
Free online PDF to Image converter and professional software have their pros and cons, you can make full use of these free services based on your actual needs. However, if you require a higher degree of accuracy and speed, or maybe you want to get more option function like you need scanned your PDF file, you'd better turn to a professional PDF converter - Enolsoft PDF Converter OCR.