Are you looking for a most efficient way to convert PDF to JPG on Mac?
It is no doubt that PDF is a fantastic fixed-layout flat file format that is widely used in official and professional field. While the image is one of the most popular formats for storing and transferring, which not only can be displayed by browsers more easily, but also be embedded into Word, Excel, PowerPoint more conveniently. Meanwhile, the PDF has request of being opened only by PDF reader or similar tools. But you can open images in a breeze at any platform. Apparently, to convert PDF to JPG for an efficient result is necessary in some cases. For Mac user, 4 proven ways you must know.
How to convert pdf to jpg on Mac with the easiest way? (Enolsoft PDF Converter OCR)
Enolsoft PDF Converter OCR is an outstanding PDF to JPG converter which is designed for Mac specially. From it, you can acquire an original quality image. In addition, It possesses a significant advantage-convert multiple pages PDF to JPG on mac with original filenames output in a very short time. Both native and scanned PDF version are supported.
Steps:
Step 1: Download and install Enolsoft PDF Converter OCR in your Mac and run this program.
Step 2: Click the + button to upload or drag-and-drop the pdf into interface.
Step 3: Choose All pages or Range according to your needs(If it is scanned PDF, do not forget to turn the OCR function ON). Then choose the output format as Image > JPG and click Convert button.
Enolsoft PDF Converter OCR is a professional powerful PDF OCR software which is not only support of any single page or multiple pages conversation, but also batch converting pdf to jpg on mac with capacity of up to 150 PDF files one time.The exporting images are very high-definition. Even for the locked PDF, you can convert it successfully by entering the password.In my test, multiple images were packed in a file with original filenames acquiescently in a very short time. The image definition is great.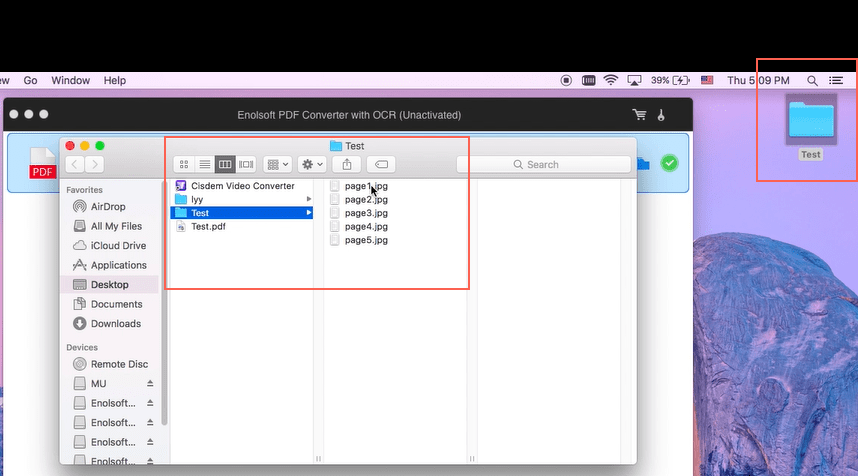 More than a PDF to JPG converter, other functions about Enolsoft PDF Converter OCR you should know:
It can be used to convert PDF to other image formats (PNG, TIFF, GIF, BMP)
It is an excellent helper to export PDF files into editable formats: Word, PowerPoint, iWor Pages&Keynote, Excel, RTFD, Text, ePub, HTML etc.
Create PDF from JPG or other format easily
Rename, merge, protect, compress ect.are available
How to convert a pdf to a jpg on mac with preview?
Preview is a default application in Mac for speedy and easy viewing of files(JPG,PNG,PDF).Beyond that, crop document, share a document, add a signature to a document, annotate the document, are available.I guess there is another function you may not know-it is able to take the conversion task as well.
Steps:
Step 1: Open the PDF you want to converted by Preview
Step 2: Choose the File menu and select Export
Step 3: Select the JPEG format from the drop-down Format menu and click Save button
Preview is a complete free tool to covert PDF as JPEG images. If you only want to export the first page JPEG from the PDF file, it can handle this job well. Because in my test, 10 pages of PDF only the first page was exported successfully. Nor range of page be chosen there. That means If you have PDF in bulk to be converted or you want to export the second page, that would be very complicated and difficult. At the moment, though, i have no idea of how to convert multiple pages PDF to JPEG with Preview. Solutions are always more than difficulties.
How to convert pdf to jpg on mac with Automator?
Automator is an application in Mac, with which you are able to automate task through a drag and drop interface action. It can help you save time by creating Workflows.Converting multiple pdf to jpg is supported here.
Steps:
Step 1: Launch Automator(It is located at Applications)
Step 2: Choose Workflow and click Choose button
Step 3: Drag the PDF files into your Workflow , then choose and double-click Render PDF Pages to Images
After all,It can be used to convert PDF to JPEG in batches. But there are many bugs exist. It only supports a PDF file one time. The operation procedure is complicated and the image resolution declines. This action produces random numbering featured filenames. The red remarked area in the picture as below is my test result of a PDF file with only 5 pages in total. I do not know why the number begins with 21st.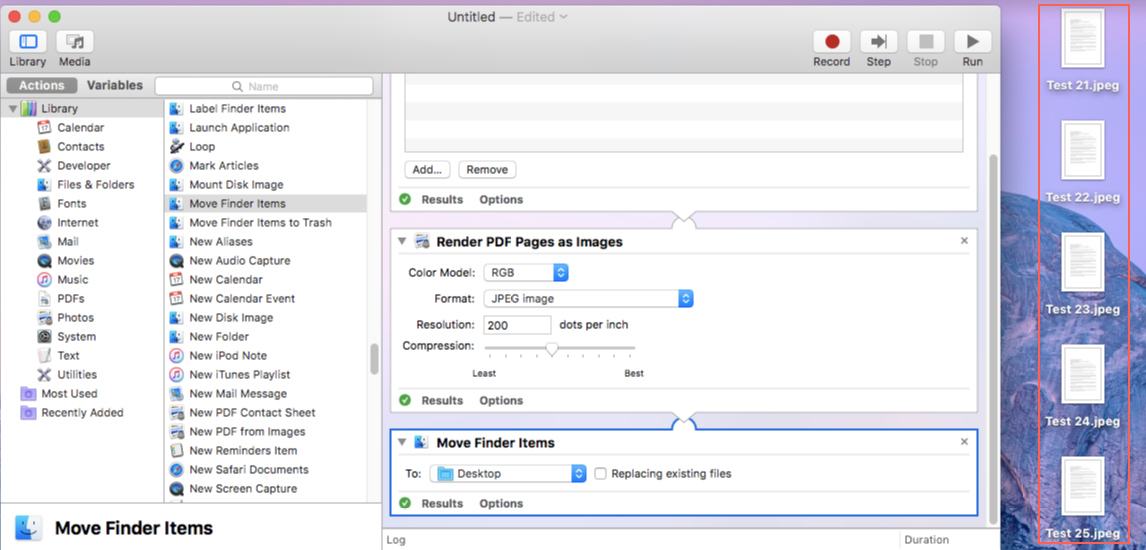 How to convert pdf to jpg on mac with free online tool? (Smallpdf)
Smallpdf is a free versatile online PDF processing software, with which you can realize converting JPG, Excel,Word,Powerpoint files to PDF and convert a PDF file to those formats as well. Online compression and editing are supported as well.
Steps:
Step 1: Drag and drop your PDF in the interface or Click Choose file to insert your PDF file
Step 2: Choose Extract single images or Convert entire pages according to your needs, then click Choose option button.
Step 3: The images would be outputted as a compressed file. Click download to save at your computer.
The operation procedure is relatively simple and the image effect is not bad. But this free online version is limited to the conversion of twice per hour, and only one file is supported each time. It may cause a little bit troublesome when it work with heavy files. From my test result, this action produces random numbering featured filenames same as Automator.
Conclusion
If you want to get a best image result and leave some unwanted problems out. Enolsoft PDF Converter OCR is your best choice. As it is customized for Mac system. In other words,It is completely Mac user-friendly. Download to make a trial version now!