People who work as a clerk may receive a lot of data in PDF format from the clients or bosses. Although PDF format has emerged as one of the most favored mode of viewing documents, it does not allow editing of documents to users who may want to make some amends or change a few facts and figures. So, some of the PDF files contained lots of tables would be very useful to reliably convert it for spreadsheet analysis with the economical PDF-to-Excel conversions.
Well, it's much easier to convert native PDF to Excel format, but how about the scanned PDFs? In this article, I'll mainly show you the best way to convert scanned PDF to Excel on Mac with Enolsoft PDF Converter with OCR.
Why Enolsoft PDF Converter with OCR for Mac?
Enolsoft PDF Converter with OCR is a mac program designed to convert any PDFs into various editable document format and image format, providing the best conversion quality. So PDF users don't need to waste time on extracting information from a PDF file, copying & pasting from PDF, or on retyping.
There are abudant reasons why we choose Enolsoft as the best tool, among which, we pick following ones that always shape users' decision essentianlly.
Retain Original Formatting
To convert a scanned PDF to Excel, the formatting and layout should be well remained. And that is what Enolsoft can do. All the data and table will be the same as original, no need to manually adjust too much.
Batch Convert
Enolsoft supports batch converting PDF files to preferred output format, which greatly saves user's time when work on multiple conversions.
Work on Different PDF Files
Not only applicable for scanned PDF, Enolsoft can also work on native PDF, protected PDF and image files. Since this tool is featured with the OCR ability, it can work both on scanned pdf and differnt image files. For those PDF files protected by a password, Enolsoft allows users to input the correct password within the program, then continue to work on the conversion.
Fast Conversion
It is unique to Enolsoft that is capable of doing conversion on files so fast. No matter how large your PDF files are or how many files you have imported for conversion, the status bar will indicate a fast process.
4 Steps to Convert Scanned PDF to Excel on Mac
Step 1. Download and install Enolsoft PDF to Excel for Mac
Download Enolsoft PDF to Excel for Mac and follow its wizard to install it to your Mac. When the installation is completed, run it.
Step 2. Load scanned PDFs and select languages
Click the button "Add Files…." or drag-n-drop scanned PDF files to its interface. It supports batch convert, dozens of PDF files can be processed at the same time.
Step 3. Adjust the Settings
Turn the OCR button ON. Then choose the page range and file language. Don't forget to select the output as Excel in the output format menu.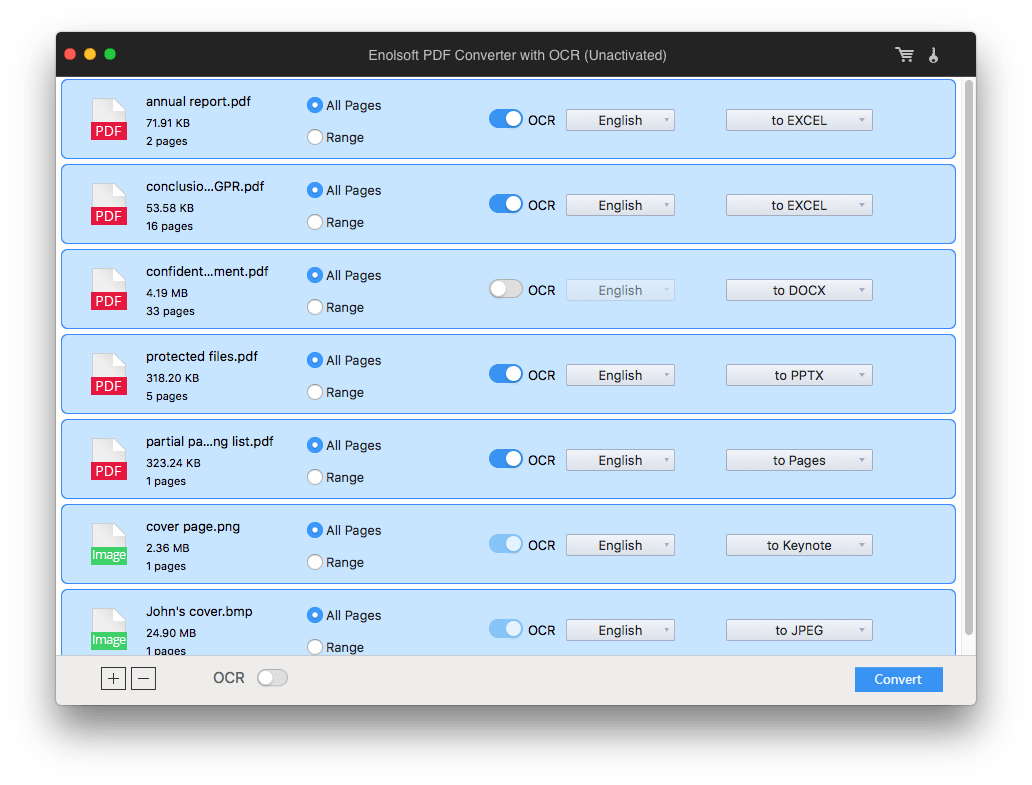 Step 4. Initiate the Scanned PDF to Excel Conversion on Mac
Click the big button "Convert" to start scanned PDF to Excel conversion in bulk. No matter how large or how many files you have uploaded for processing, the conversion can be finished within seconds.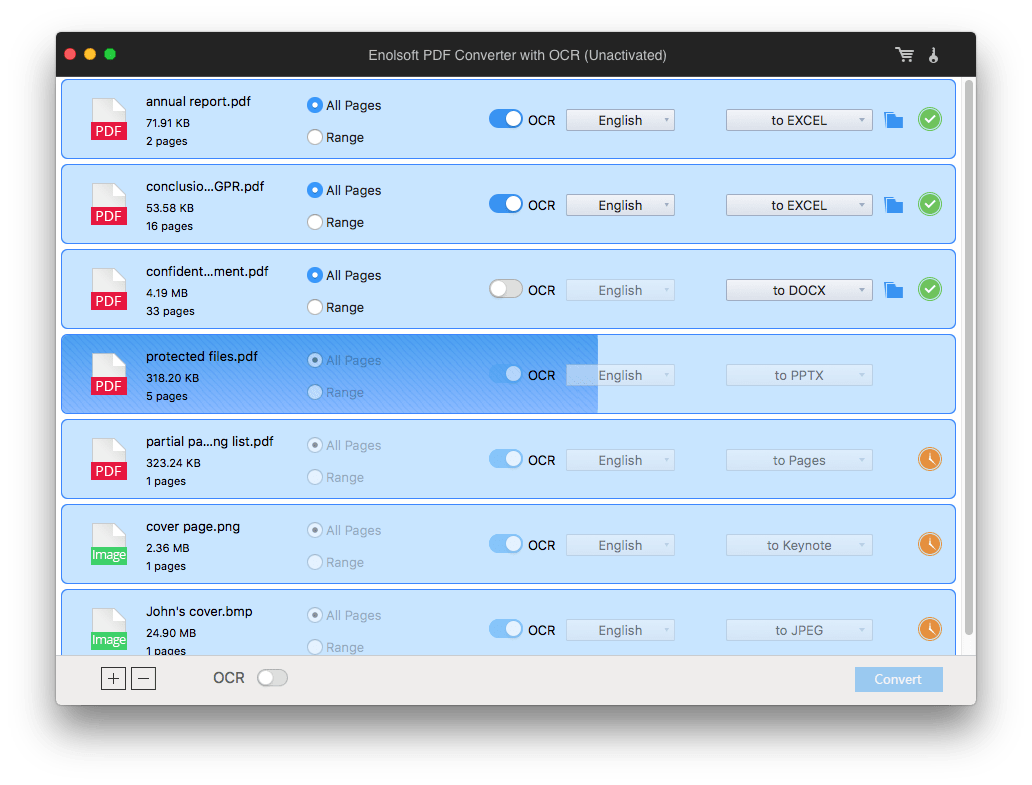 See? Converting scanned PDF to Excel on Mac can be quite easy and fast, the point is to find an adequate tool. And according repeative tests, Enolsoft PDF Converter with OCR is proved to the best tool to solve such a conversion job.
Now have a try to make your scanned copies in editable and well-formatted spreadsheet!